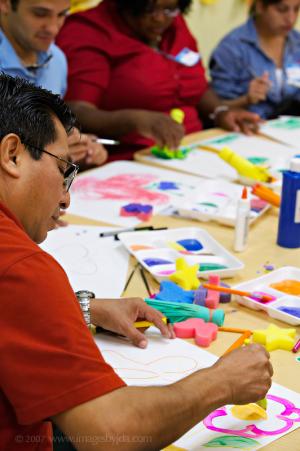 "Absolutely informative.  Excellent professional development."
"These AKI workshops should be mandatory for ALL teachers…"
-Miami-Dade County Public School Teachers
---
AKI professional development trainings for educators, clinicians, teaching artists and cultural program administrators are designed to provide a hands-on approach to learning about adaptive techniques for including every learner, together with the knowledge of universal design. 
Educators gain a sense of excitement and renewed energy, as well as practical skills on how to use the arts to inspire learning in the classroom and clinical settings, and to include students with disabilities in mainstream programs. 
---
The following AKI professional development workshops are scheduled:
See also the online AKI Access Academy
For more information, please contact Ivette Dominguez | Ivette.Dominguez@miamidade.gov.
View Glow with the Flow performance video featuring Zot Artz - Arts for All - See more at: http://www.miamidadearts.org/education/zot-artz-arts-all#sthash.d7NAc4No.dpuf