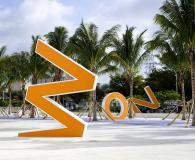 Miami-Dade County Art in Public Places, a program of the Miami-Dade County Department of Cultural Affairs, serves the community through the implementation of art installations dedicated to enriching the public environment and to preserving and enhancing the artistic and civic pride of Miami-Dade County. Miami-Dade Art in Public Places promotes collaboration and creative art projects that improve the visual quality of public spaces. These public art installations transform public spaces from ordinary civic areas to sites that can lift the spirit and connect with the community.
One of the first public art programs in the country, Miami-Dade Art in Public Places was established in 1973 with the passage of an ordinance allocating 1.5% of construction cost of new county buildings for the purchase or commission of artworks. Art in Public Places is overseen by a citizens' Trust appointed by the Board of County Commissioners. The Trust receives recommendations on acquisitions and commissions from the Professional Advisory Committee, an independent group of professionals in the field of art, art history, public art, architecture, landscape architecture and architectural history.
Since its inception, the Miami-Dade Art in Public Places Trust has acquired or commissioned over 650 works of art and gained international recognition as a leader in its field. Artworks are installed countywide at diverse sites including Miami International Airport, Metrorail and Metromover stations, PortMiami, Zoo Miami, Adrienne Arsht Center for the Performing Arts, parks, fire stations, libraries, police stations, public housing developments, courthouses and community health centers.                                                          
For mor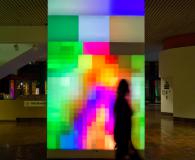 e than a decade, the focus of the program has been on site-specific, collaborative projects that involve the thinking of artists, landscape architects, historians, engineers, and architects in a team approach. Creative problem solving through innovative collaborations has resulted in projects that validate, define, and expand community identity.
The goals of the program are several: to enhance the artistic heritage of Miami-Dade County, to give dimension to the public environment for residents and visitors, to increase public awareness to works of art, and to promote understanding and awareness of the visual arts. The Art in Public Places program has given Miami-Dade County national visibility in the arts and a leadership role in public programming. Through Art in Public Places, the County supports the development of a unique and vital civic environment.
For more information about Art in Public Places, visit the program's website.