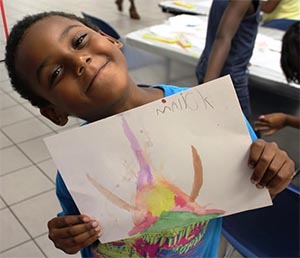 Miami-Dade Cultural Affairs provides grant support to community based organizations in order to invest in and strengthen cultural organizations that provide youth arts programs for children and families, and to increase opportunities for kids to engage in direct, high quality, live arts experiences as a part of their overall education.
Studies have shown that involvement in the arts helps kids increase test scores and promotes academic achievement. Kids who are involved in the arts are:
4 times more likely to be recognized for academic achievement
3 times more likely to be elected to class office within their schools
4 times more likely to participate in a math and science fair
3 times more likely to win an award for school attendance
For more information about the wide array of cultural arts programs available for children and youth in Miami-Dade County, click on the program links below.
---