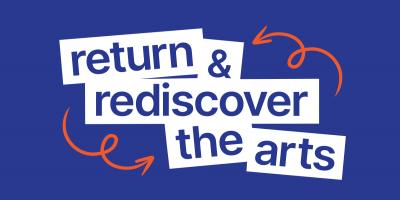 As the 2022-2023 Season kicks off in Miami-Dade County, the cultural community invites the public to come together in-person and experience the power of the arts through Return and Rediscover the Arts, a new County-wide campaign for in-personness, promoting Miami's diverse and vibrant cultural activities and special events. 
Launched during National Arts & Humanities Month and Miami Entertainment Months by the Miami-Dade County Department of Cultural Affairs, all arts groups, artists and cultural institutions are welcome to join in promoting our local visual arts, museums, theater, film, music, dance, literature, history and heritage celebrations.
How do I participate?
Participation is easy. Simply click here to download the marketing kit, the Return & Rediscover the Arts logo can be added to all your marketing materials, websites and brochures. Click here for style guide.  The logo may be used to promote attendance at festivals, performances, exhibitions, concerts, events, classes and shows.
Share it on Social Media
Partner with us and share the message on your social media feeds. You can use the language included or adapt the message and make it your own! Download the social media assets here.
Questions? 
Don't see the logo in the format you need? Have any other questions? Contact culture@miamidade.gov.