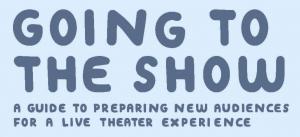 Going to the theater for the first time can be an exciting experience for children, but for some, it can also be overwhelming. To help make theater-going a more inclusive and enjoyable experience for everyone, the Miami-Dade County Department of Cultural Affairs created a very special pre-visit guide called "Going to the Show."  Using the principals of Universal Design, Going to the Show was created for children with Sensory Processing Disorders and Autism Spectrum Disorders (ASD) in mind, but can also be used as an effective tool to teach any child theater etiquette and help prepare them for what to expect when attending to a live performance.
Depicted in comic book style with easy-to-understand language and accompanied by delightful "anime-like" illustrations of friendly animals, "Going to the Show" explains what to expect when attending a live theater, dance or musical performance.  The story highlights key events that audiences are likely to encounter at the theater, such as unfamiliar people, waiting in line, a darkened auditorium, and unexpected or loud sounds.  The guide also includes an introduction with brief instructions on how readers can personalize the story with additional dialogue and descriptions in order to create their own version of "Going to the Show."
The intent and application of using "Going to the Show" specifically to assist children with Sensory Processing Disorders and Autism Spectrum Disorders (ASD), is based on the best practices of using Social StoriesTM (thegraycenter.org/social-stories) and visual/picture schedules to assist children with autism.  These stories are commonly used to teach children and individuals with autism social skills for everyday situations.  The story is a simple description of a typical situation written from the individual's perspective, and which can be used in a variety of situations.  For example, the stories can help the individual prepare for upcoming changes in routine (often extremely stressful for individuals with autism), or learn appropriate social interactions for unfamiliar situations that they encounter. The intent is that the child rehearses the story ahead of time with an adult. Then, when the situation occurs, the child can use the story to help guide his or her behavior.  Picture schedules utilize visual images presented in sequential order (for example:  first, then, next, last) to assist children with sequencing tasks, as well as preparing for and transitioning from one activity to another.  As with using Social StoriesTM, visual/picture schedules help prepare a child in a step-by-step manner for what to expect in a given situation.
---
View Going to the Show.
Download the Going to the Show PSA Ad / Flyer here.