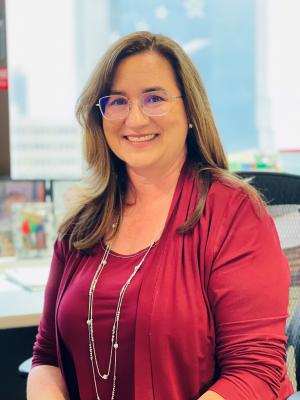 Chief of Education, Outreach and Access
Francine Andersen joined the Department of Cultural Affairs in 1993, first as an administrator in support of the Performing Arts Center Trust during the design phase of the Adrienne Arsht Center for the Performing Arts and the South Miami-Dade Cultural Arts Center, and later as Chief of Cultural Facilities, overseeing several neighborhood cultural facilities projects and serving as administrator for the Capital Development Grants Program.
Ms. Andersen was named Chief of Arts Education in 2002 and promoted to Chief of Education, Outreach and Access in 2019.  Since 2006, she has helped secure and has directly managed over $19 million in grant funding from The Miami-Dade County Children's Trust to vastly expand the Department's arts education and outreach initiatives, reaching over 200,000 children and families annually.  She is responsible for the creation and management of several arts education, outreach and access programs including the Youth Arts Miami, Youth Arts Enrichment Program, and the Summer Arts & Science Camps for Kids grants programs.
As the Department's ADA/Access Coordinator, Ms. Andersen is responsible for the creation and administration of the Audience Access grants program and the "All Kids Included – Accessible Arts Experiences for Kids (AKI)" initiative:  developing a wide range of model programs for children and youth with and without disabilities, including:  the annual All Kids Included Family Arts Festival which she produced from 2007 – 2011;  the Shadow Interpreted Theatre Program for Children and Families, presented in 2010 for the first-time ever in the State of Florida;  the Youth Arts in the Parks program begun in 2011;  the "Open Access Theater Series," presented as part of the opening season of the South Miami-Dade Cultural Arts Center in 2011, and the Sensory-Inclusive cultural programs initiative launched in January 2012.
In 2022, Ms. Andersen received the 16th Annual Champions for Children Excellence in Direct Service Award from The Miami-Dade County Children's Trust.  In 2019, Ms. Andersen received The Sara T. Maddox Support of Art Education Award from the Dade Art Educators Association and the Community Service/Institution/Corporate Award from the Florida Art Education Association.  Ms. Andersen was the recipient of Parent to Parent of Miami's 2012 IMPACT Award honoring individuals in the Miami-Dade community who are dedicated to improving and promoting initiatives that benefit children and adults with disabilities and their families.  In 2011 she was recognized by the Florida Dance Association and Tigertail Productions with the Homer Avila Award for Excellence in the Field of Mixed-ability Dance for her work in support of this area of arts access.
Ms. Andersen served on the Arts4All Florida Board of Directors from 2015-2021 and as Vice President from 2020-2021, whose mission is to provide, support and champion arts education and cultural experiences for and by people with disabilities.  Ms. Andersen is a past Fellow of the Parent Leadership Development Project for children with disabilities, a project of Parent to Parent of Miami and the Mailman Center for Child Development; and supporter of Autism Speaks' signature fundraising and awareness event, "Walk Now for Autism," achieving "Grand Club" status three times for her fundraising efforts on behalf of Autism Speaks.
Ms. Andersen holds a Bachelor of Music in Music Industry with a minor in Business Administration from the University of Miami.  She is a classically trained flautist and the proud mother of two sons who have inspired much of her professional work.