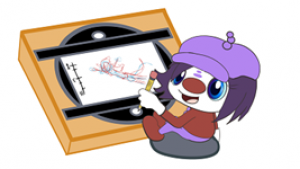 Animation Gets Real Miami Summer Boot Camp
for teens with autism and related disabilities
Teens ages 13-22 with autism and related disabilities will learn new skills as they explore the world of animation, filmmaking and music technology!
Click here to download 2022 flyer
---
REGISTRATION IS CURRENTLY CLOSED
For more information, please contact Ivette Dominguez
Animation Gets Real Miami 2023 is presented by Miami-Dade County Department of Cultural Affairs All Kids Included in partnership with Arts4All Florida, Arts for Learning/Miami, and Miami-Dade Public Library System, with funding from The Children's Trust.
Who:  Students ages 13-22 with autism spectrum disorder and related disabilities who are able to follow instructions, independently communicate and participate in a group setting.
When / Where
Beginners: June 12 - 16, 2023 | In-Person at Westchester Regional Library (Location TBC)
Intermediate/Advanced: June 26 - 30, 2023 | Via Zoom
Hours:  Monday - Friday, 9:30 AM - 4:00 PM
Program Fees (non-refundable):  $100 Miami-Dade Residents * | $400 Non-Residents
* Scholarships available to Miami-Dade residents who qualify for free or reduced lunch, or receive assistance such as SNAP benefits.
---
---
About the Animation Gets Real Instructors:
Dani Bowman, animator, author and entrepreneur will impart her animation skills while exuding enthusiastic inspiration to students with disabilities.  Dani, who is on the autism spectrum founded her company, DaniMation Entertainment, at age 11, and has been working professionally since she was 14 and started teaching animation summer camps at age 15.  Dani has gone on to graduate from Woodbury University with a Bachelor's of Fine Arts (BFA) magna cum laude in Animation in 2018 and Master's of Business Administration summa cum laude in Global Strategy and Leadership in 2020.  She presented both her junior and senior thesis animated shorts at San Diego Comic-Con.  Dani is currently working on getting a PhD in Psychology focusing on autism with her research thesis based upon quantifying the impact on her students from her past 10 years of peer teaching.
Dr. Clint Randles is Associate Professor of Music Education at the University of South Florida School of Music and recipient of the 2015 Michael L. Mark Music Research Award for outstanding research by an early career scholar/researcher, issued by the University of Michigan.  Dr. Randles teaches "Progressive Music Education Methods" at the undergraduate level, and "Philosophical and Historical Perspectives in Music Education" and "Creativity in Music Teaching and Learning" at the graduate level for students in the College of the Arts and the College of Education. He also teaches classes for students with disabilities in a community music outreach program sponsored by Arts4All Florida. He has recently served as Chair of the Creativity Special Research Interest Group of the National Association for Music Education.  Prior to his appointment at USF, Dr. Randles taught general music and band in the public schools of Michigan for nine years. He has written arrangements and original compositions that have been performed by both marching bands and children's choruses. A Michigan native, Dr. Randles received his Bachelor of Music Education degree from Grand Valley State University in Allendale, Michigan, and both his Master of Music and Doctor of Philosophy in Music Education degrees from Michigan State University.
---